I thought it'd be good to blog a little about what I'm currently doing and what's happening with Space is Key mobile!
As some of you guys know from Spaceiskey.com. Space is Key is coming to Android! (Let me get a WAHOO!)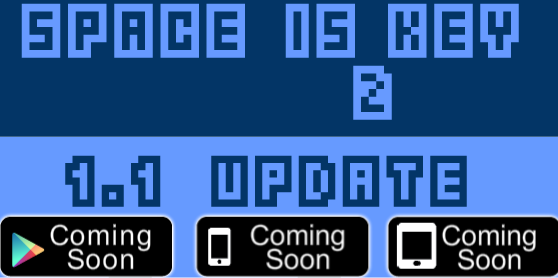 What is happening Chris?
So what I've been doing is porting it to AS3 and optimising some stuff so I can use AIR. Which, by the way is running so so good. The initial plan was just to do this for Android, but I thought why not update the iOS build too?!
Doing that is all cool BUT I've went one level up from that. I've toyed with the idea for months after I initially launched Space is Key iOS but I didn't have my own Mac so I kinda pushed it aside. Now, this isn't the case with AIR!
Space is Key 2 AND a new section called 'hell levels' which is tough levels, is now in Space is Key mobile 1.1. This seriously means lots of levels for you guys, and for everyone who bought the iOS version, it's going to be a free update! In fact  over all platforms, these levels won't be charged for. I'm feeling kind

OH! And if you own an iPad. All you have to do is buy this App once (I think the same will apply for Android, not sure if it's the same as iOS though). But it's universal, it'll auto-scale to your resolution so no need to buy it on your phone then your tablet!
As for a release date, I'm really not sure as I've got a few projects on the go. I was really hoping to launch this month (November), I may still make it though but I've also been having some trouble with mobile provisioning stuff on the iPhone. I'll post up when I've fully finished the game and it's in the hands of Apple/Google but I tweet on twitter too so follow me there @ChrisJeffGames
TL;DR
Now using Adobe AIR!
Space is Key is hitting Android soon!
Space is Key iOS will now be a universal app! Both iPad and iPhone support.
We may be hitting Blackberry Playbook but I've got nothing to test with, so I'm doubting it very soon!
1.1 will be launching the same time on iOS/Android = All Space is Key 2 levels included!
Release date is super soon, might be November 2012, if not a little after that. Too hard to say!
That's it folks! Just wanted to clear it all up too as I've had a few questions about it