If you remember last year, I posted about mochi traffic share, well I've updated my ad to my current logo and something a bit more fresher! I'm not a fan of  'Click here' or 'Play' labels, especially on traffic share ads so I've kept it straight to the point with some nice visuals from Scramball Worlds!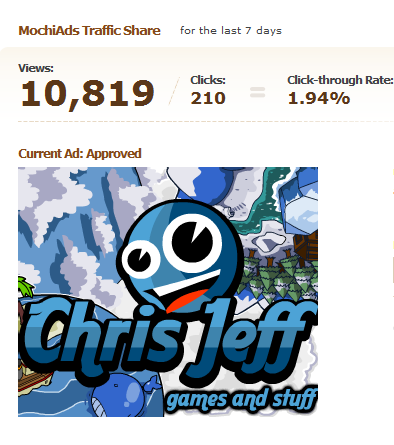 It did have like 14,000 views yesterday! Should have done this article then! But yeah, as you can see, the stats aren't too bad really, it's getting a nice little amount of views. Only problem is the click through rate, which is mainly because i've kept it simple and not used techniques to make the user click! I mean it's only free advertising, I'd prefer a nice little advert like this than a one over powered with 'CLICK ME' and such.
If you guys haven't checked this out and are registered with
Mochi
, then what are you waiting for? It's free, take advantage of it!