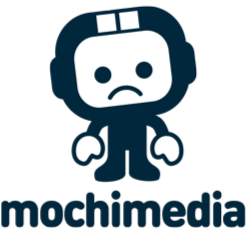 It's sad month! Mochi Media announced they were shutting up shop (And at no decision of their own) after Shanda decided they kinda didn't want them any more. Huge shame as Mochi has really turned to many so many hobbies in to careers and fostered the growth of the Flash game industry and really been around since it started kicking off more and at its peak! Sadly it all closes down on 31st march

Not only did Mochi really open my eyes (Whilst I was 16 actually!) to the flash game world and still continue to support me as it turned from a hobby to a career but I was honoured to have them work alongside Ernesto and I with Mochi London. They really helped us a tonne financially and with their expertise on running events (From FGS), so it's sad they won't be involved any more as Colin is a legend!
So speaking of Mochi London – it will still live on! Just because Mochi went away, doesn't mean this event will. I'm still willing to put in the time and energy to continuing it all as from the start we wanted to get the community in one place and get creativity flowing, this can still happen! The only thing is I won't have funding for the event so I'm going to keep my options open and feel around and see what I can do with the event. I still want it how Mochi London was but I want to open the event up a lot more to the indie scene as a whole as in the past it's been pretty Flash heavy. So yeah, Mochi London will still live! 😉
Here are some cool stories I've screen capped from the forums. Seriously so cool to hear everyone's stories and how everyone really started off the same way when Mochi was around!
My little Mochi story I posted on the forums:
So I started developing games 7 years ago in 2007 (Christ!), it was around the time that Mochi was in beta actually! And to be honest, I feel like I've grew up to what I am today with Mochi, so it sucks to hear this! Whilst I was deep in Flash at School and just experimenting, Mochi allowed me to earn whilst I was still picking everything up and even after I was established and earning from sponsorships, it was still bringing in revenue. Aside from the Ads too, Mochi provided some great services, especially Mochibot which I've pretty much religiously relied on for accurate and reliable analytics!

One of the best things I've got to work on was Mochi London with Colin. I learned so much from it all and having you guys there to really guide me was just priceless! I think it was a brilliant three year run for us & can't thank you chaps enough for getting involved by both financially making it happen and pouring your time in too!

I think without Mochi being around (Even just in terms of community), it's going to leave quite a hole and I second what Wayne said, it'd be good to get somewhere to regroup and kind of keep the community side of things going.

So yeah, definitely sad and it's been a pleasure! Mochi seems to have incubated some insanely talented and cool people so even though you don't need it, I wish you all the best with what you end up pursuing and hope it's awesome!
Other peoples stories:
So if you're a developer/publisher using Mochi's services/have money in your account, you should head over to http://mochiland.com/articles/mochi-media-winding-down-services-end-date-of-3-31-2014 and read the official announcement! Also before the 31st of March you should hit up the community and show some love, it's great to see how people have came together and shared their stories! https://www.mochimedia.com/community/forum/topic/mochi-media-winding-down-services-end-date-of-3
But yeah it's been a privilege to work with the folks at Mochi and I wish every single one of them good luck in finding somewhere new. Huge shame it had to happen! Nice one Shanda….logical decision.