Haven't been too active lately. But the inactivitys came to an end! I'm planning on releasing a few helpful posts full of information about experiences with sponsorships, monetizing and distribution so stay tuned.
Well i've pondered on the Mochiads Traffic share program for a while, looked at it and it all seems full of pro's! I mean i'm not losing anything at all, and gaining a bit of traffic here and there surely can't be a bad thing.
So I whipped myself up a neat little ad; overall it's simple but contains the relevent information and it's kinda fun looking: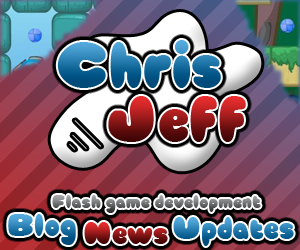 Uploaded it a few minutes ago, and I'll more than likely post on my experiences and results when they become more accurate.
To partake in the Mochiads Traffic Share Program you need an account with Mochiads, then it's on your dashboard, click the link and you'll have it set up in no time.
Then after that your ready to go. If you have any problems you can consult the FAQ too, it's pretty handy.