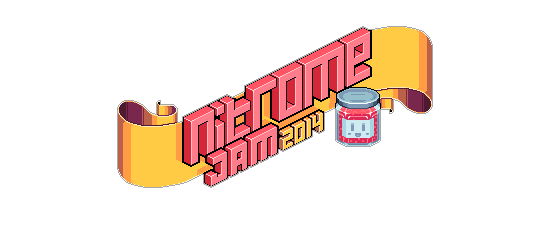 If you know me just a teeny tiny little bit, you'll know I absolutely love game jams. They're one of the brilliant & unique things in our industry that just seep creativity in such a short amount of time and that's why I just love them! And when I heard Nitrome was having a game jam, even though I'm neck deep in other projects that I can't wait to show people about – I decided to just drop everything and have some fun! So this game jam was a 5 day one (Monday – Friday) and sadly I really couldn't do the whole week, but instead of just not doing it, I grabbed Alex and Yuya (Didn't grab them, a simple message done the trick, no grabbing involved here!) and got to work on an idea that had been floating around my head ever since the theme 'Dreams' got announced on the Monday.
So yeah, like I said, we started pretty late to this game jam and I had an idea floating around my head that I pitched to Alex & Yuya to see if they could get involved with me. It was kinda totally against what I initially thought when I read 'Dreams' and I think it's why it stuck so well with me. Initially when I thought 'Dreams' I pictured really beautiful cloud based worlds and thought about some kinda exploration based platformer, essentially exploring dreams – then I thought this may be too obvious and that maybe other people could have just interpreted the theme like that – so I kinda went the opposite way.
Then Baku was born! From the start, I wanted this to be a top-down exploration game with challenging stealthy stuff thrown in there too. Essentially you're a dream eater and you're in a random house, you're pretty hungry so you're sneaking around trying to find dreams to snack on that are littered around rooms with sleeping folk in them. One problem though, you're a bit clumsy and just make far too much noise!
So yeah, you're sneaking around the house trying to make as little noise as possible & eating dreams. As simple as that I guess.
Feature wise, there is a tonne of stuff I wanted in here however within the three days, I really just couldn't get them in there. Saying that, I'm pretty proud with how well we coped and how much we did in the time though!
It even got to the point where Alex actually put stuff in the tutorial for features we were planning to get in the game. Stuff like:
– Walking around (Since he's heavy footed) slowly increases alert, your 'disguise' ability slowly decreases alert energy & if you're stomping around a room with a sleeping person/dog in they will actually wake up and spot you.
– A few more rooms in the house. Who doesn't want more rooms?!
– Each room will have a threshold so you don't always have to hit 100% alert to fail the room, if there's more people sleeping in the room or if there's a dog, the threshold could be lower!
I think we're really considering putting in some more time in to this and getting it a proper release on the web, could be fun and I really think it's a fun little game with potential. What do you guys think though?
oh oh oh, you can play it here too! http://chris-jeff.com/nitromejam.html
Or hit up nitromes site and you can vote I think, sounds pretty cool! http://www.nitrome.com/jam/games/bakuthedreameater
Over the next few days I'll get a proper page put up for Baku too so it'll pop up on the side of the site.
Fun fact: Yuya actually named the character Baku – I think it means spirit in Japanese and he's Japanese so y'know. It stuck with us!