Hey guys! It's been 2 weeks (3 weeks including exclusivity on Armorgames) since the release of Space is Key and I'd like to share some of it's finds/stats with yous!
Overall it's had a pretty good response:
Armorgames score of 7.3. Pretty good score and was well received by them. They were pretty active in positive constructive feedback too and helped me change the game play a little.
Newgrounds score of 4.10 with front page, sadly missed out on a daily, and got trumped by competition in the weekly!
Kongregate score of  3.65 with front page. I see this as pretty reasonable from Kongregate, as their crowd are pretty unique and I honesty didn't think it would go down well with them at all.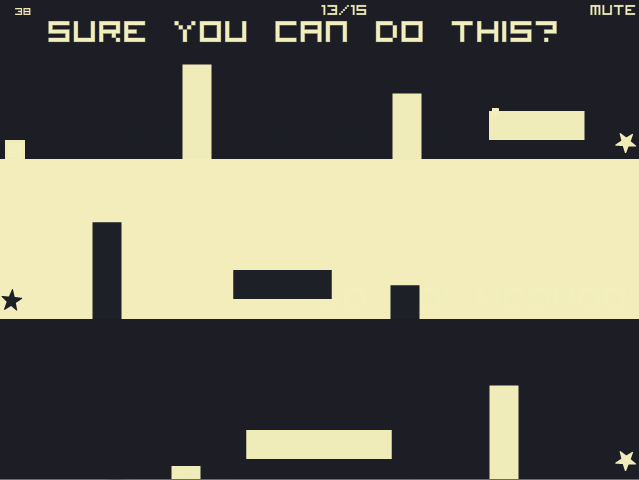 Space is Key was also included in a Jayisgames post which I thought was pretty sweet, they had a great little paragraph about the game:
Grease is the word, but apparently the [spacebar] is the key in this fast-paced, frustrating and addictive little arcade game where the goal is simply to make it from one side of the screen to the other. Easier said than done since your brave little square avatar is apparently made of spun sugar and will shatter into a billion pixels if it even gets within breathing distance of an obstacle. The farther you go, the trickier things get, adding traps, tunnels, gaps, and triggers to contend with along with the sense that the developer is just rocking back and forth on his heels, giggling like a maniac at how often you fail.
It's kinda true actually! I mean there are a lot of comments with people raging but then voting it full and asking for more! So it's a kind of game that you just need to complete, and you'll push yourself to do it, which I guess is kind of a good quality.
As for gameplays! To date, it's raked in just over 2.3m since the day of it's release. Which I deem to be pretty good for a small game actually especially in it's short time of release , but it could have done a lot better and went more viral, but it's a nice amount of hits, and it's growing, still raking in a good 70k+ hits a day. It's due to go up on Addicting games which will throw it's impressions up by a good 50% if it does well.
So yeah, all in all, a pretty good reception and hopefully keeps up it's pace. I'm considering a sequel sometime in the not so distant future after I finish a few other projects!
So watch this space!