Description
Space is Key. Simple concept, but can you do it? Ported over to iOS by popular demand! From the hit flash game that has accumulated over 30 million plays! Now you can feel the frustration of exploding pixels on your iOS device! You won't want to put you're device down after you get a taste of Space is Key! Time your jumps carefully, or you turn into tiny particles! Challenging, yes, but the computer provides plenty of snarky encouragement. Its like getting advice from a mildly annoying friend.
History
You want the history of Space is Key? Well then, sit down near the fire, young boy, and I'll tell you. Once upon a time...
Features
131 levels of action packed gameplay!
A whole new "hell mode" which is a challenge mode consisting of levels to drive you to the edge! Do you have the pixels?
Universal. Get once and download on your iPhone, iPod or iPad with out the need for extra versions! (Or Android phone and Tablet with one build).
In-game narrative that coaches you along!
Supports game saving and loading with local top scores.
Facebook and Twitter integration. Share your score with your friends! See if they can beat it.
Easy, pick up and play style controls, hard to master!
Smooth, responsive gameplay.
Logo & Icon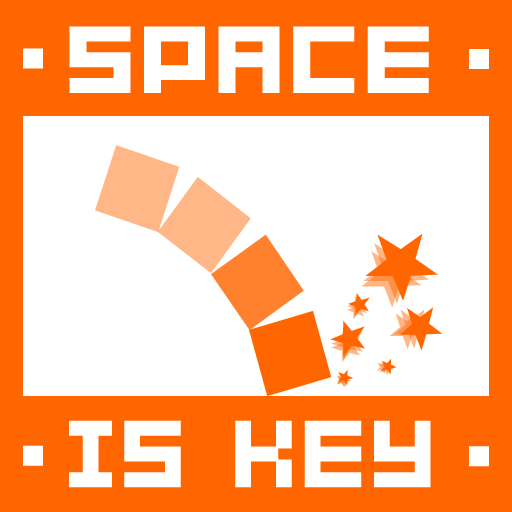 Awards & Recognition
"Mochi Award Finalist (Best Action game of 2011)" Finalist with Space is Key
Request Press Copy
Please fill in your e-mail address below and we'll get back to you as soon as a press copy is available for you.

Additional Links
Space is Key OSTs
Available for free from chris-jeff.com.
About ChrisJeff Games
Boilerplate
The digital playground of Chris Jeffrey; An independent game developer from the United Kingdom.
More information
More information on ChrisJeff Games, our logo & relevant media are available here.
Space is Key Credits
Chris Jeffrey
Developer, ChrisJeff Games
Christian Krogsvold (Waterflame)
Space is Key 2 OST
Yuya Takeda (Skybase)
Space is Key Hell OST
Kristian Caldwell (Bunnymajs)
Space is Key 1 OST
Contact
presskit() by Rami Ismail (Vlambeer) - also thanks to these fine folks